The range of engines proposed by Bimotor for marine applications goes from 36 kW up to 735 kW, responding to different homologation levels (IMO II, EU StageV, RCD II) depending on the target market.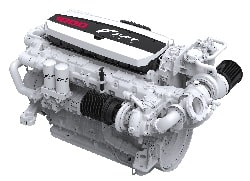 Purely pleasure or commercial applications are absolutely covered within the product portfolio, with different levels of documentation to support ship classification bodies and users.
For ratings from 36 to 48 kW, Bimotor has chosen the Raywin for the marine application, while for ratings above 73 kW, it is the FPT Industrial range that forms the backbone of the product portfolio.
The standard scope of supply includes the cooling system, which always includes the exhaust manifold and turbocharger, filtering system for combustion air, fuel and lubricant, and rigid front and rear mounts. The keel-cooling solution is also part of the optional commercial proposal.
From an emissions point of view, FPT Industrial has developed, on the basis of NEF and CURSOR, a series of StageV level (< 130 kW) engines, for the implementation of which no exhaust line is required and the installation is absolutely transparent to the yard.

Discover the FPT INDUSTRIAL range