The range of not listed engines managed by Bimotor for fire-fighting applications, goes from 36 kW up to 370 kW, complying with different standards (EN12845, APSAD, NFPA20).
The range is characterised by a high degree of modularity within the different motor families and consequent application familiarity in the applied technologies.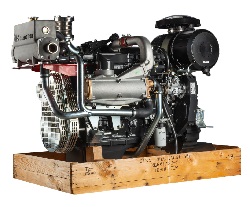 The standard scope of supply offers two alternative cooling modes: radiator with pressure fan or heat exchanger; in addition to the cooling system, there is the combustion air, fuel and lubricant filtration system, rigid front and rear mounts, and the exhaust elbow with hose (for TC or TCA engines).
Below 48 kW, Bimotor has opted for the Raywin range, which adopts a Stanadyne injection of proven quality and great load stability.
The range developed by Bimotor, on the other hand, consists of 3 engines, respectively 45 and 65 kW, based on FPT Industrial, and 370 kW, based on Yuchai.
From 73 to 295 kW, it is the FPT Industrial-based range that forms the core of the commercial proposal, with a series of engines that has been UL/FM listed for all applications with Stanadyne mechanical injection pump.
An extensive list of options is available on the entire range: dedicated sensors, couplings to the pump, various electrical system options and coolant pre-heaters; an extensive technical proposal to configure the engine according to the most stringent requirements.

Discover the FPT INDUSTRIAL range