Bimotor range of listed engines for fire-fighting applications, developed on an FPT Industrial basis, goes from 58 kW up to 228 kW, meeting UL1247 and FM1333 standards.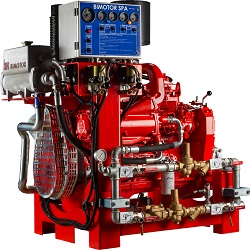 Developed by performing a skillful optimization on the FPT Industrial base product, the range is characterized by a high degree of modularity between the different engine families, for consequent application familiarity in the applied technologies; in fact, a single maintenance kit is able to cover the entire range.
The standard scope of supply includes cooling by heat exchanger with the engine resting on a sub-base, switchboard in accordance with UL/FM regulations, filtering system for combustion air, fuel and lubricant, rigid front and rear supports, exhaust elbow with hose, listed sensors, high power preheating, up to some interesting options, such as the transmission cardan shaft to the pump, customizable according to shaft size, and 24V electrical system.